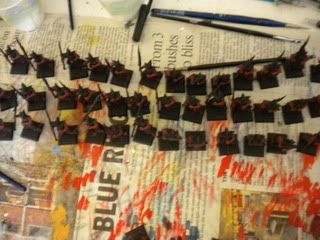 With my goal of finishing these forty-five Spearmen by the 21st ticking away, I had to take some action yesterday, even though I only had about an hour of time at home. So the red basecoat is now done. Here's the current plan:
Today - Get the silver painted on (legs and spears). This is iffy, as I'm working this evening again.
Saturday - Armor, skin, and boots. Washes if able.
Sunday - Washes if still necessary and highlights on command.
Monday - ???
Tuesday - Profit!